See on Scoop.it – Political News Updates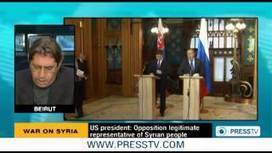 A prominent political analyst believes that the recognition of al-Qaeda-linked groups by the US and its Western allies' indicates that they want absolute cha…
Belligerent Politics's insight:
A prominent political analyst believes that the recognition of al-Qaeda-linked groups by the US and its Western allies' indicates that they want absolute chaos in Syria. US President Barack Obama has said Washington will recognize the so-called National Coalition of Syrian Revolutionary and Opposition Forces as the "legitimate representative of Syrian people." Analysts say the move fanned the flames of civil war in Syria and that there is going to be further bloodshed of Syrians at the hands of domestic elements and foreign forces as a result. They also note that the US administration despite having declared the Al-Nusra Front in Syria, which formed in 2011 amid the unrest in the Arab country, a terrorist organization, has moved to the side of al-Qaeda elements, which have come to Syria from other countries to wage war.
To further talk over the issue, Press TV has conducted an interview with Webster Griffin Tarpley, author & historian in Washington, Jihad Muracadeh, a political analyst in Beirut, and Eric Draitser who is the founder of stop-imperialism.com in New York. What follows is an approximate transcript of the interview.
See on www.youtube.com